Fastfrate Recognized as Endorsed Logistics Employer
16 March 2023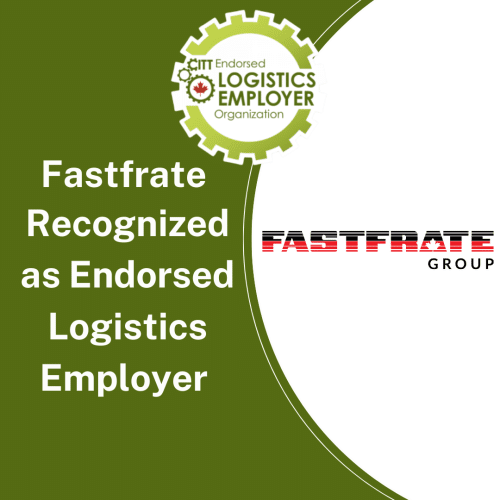 Fastfrate Group is pleased to announce we are recognized as an Endorsed Logistics Employer.
We're very pleased to welcome Fastfrate as an Endorsed Logistics Employer" says Pina Melchionna, President & CEO of CITT. "Fastfrate has history of over five decades of excellence as a transportation service provider. Across their group of companies, it's impossible to achieve that level of longevity and success without organizational commitment to your people, their growth and their success. This endorsement marks a step forward in our relationship with Fastfrate – and we look forward to collaborating further on advancing excellence within both the Fastfrate group and the industry as a whole."
"At Fastfrate, we are committed to continuous learning, growth, and development of all our employees at all levels. Being a partner of CITT provides us with access to a wealth of resources, including training, certification programs, networking opportunities, and industry events" says Deana Guluzian, HR Manager.
"We believe that by participating in these programs, we will gain valuable knowledge and skills that will help us improve our operations, better serve our customers, and ultimately, grow our business. We are also excited about the opportunity to connect with other transportation professionals through CITT.
By collaborating with like-minded individuals and organizations, we can share ideas, learn from each other's experiences, and build relationships that will help us achieve our goals. Joining CITT aligns with our company's values of learning, growth, and development. We believe that by investing in ourselves and our employees, we can continue to provide the best possible service to our customers and thrive in an ever-changing supply chain and logistics industry."
About Fastfrate Group
Fastfrate Group has been providing industry-leading transportation services for more than 50 years.
From what started out as an LTL over the road and intermodal carrier, Fastfrate has grown into a diverse group comprised of 6 companies operating out of 45 terminals and final mile hubs across Canada and into the USA. This evolution allows us to offer customers a full suite of asset-based transportation including over-the-road, crossborder and intermodal LTL and TL, drayage and transload, warehousing, distribution, final mile and logistics services.
Back to News