Consolidated Fastfrate Moves to New Facility in Edmonton and Significantly Expands Service Offering
18 September 2017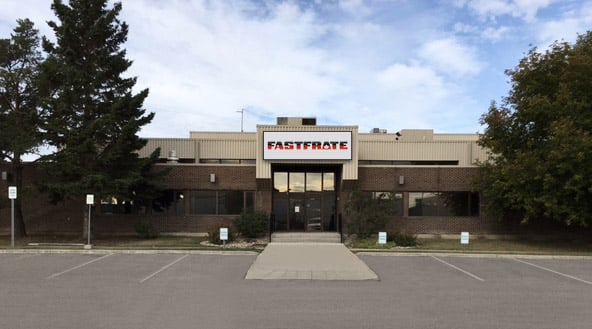 Consolidated Fastfrate is now open for business at its expanded cross dock, transload and warehousing facility in Edmonton. The new location is much closer to the CP intermodal yard and all major roadways.
Over the last 7 months since its purchase, renovations are now complete and the move took place over Labour Day weekend. The branch manager of the Edmonton terminal, Bill Shupenia, is a 40 year veteran at Fastfrate and comments, "Our old terminal was laid out for railside loading and unloading from our historical boxcar days. Our new facility is a 55 door cross dock operation, boasts a 24/7 secure warehousing component with a fully fenced, paved yard and about 6,000 sq. ft. of finished office space. We have a mandate and room for growth. We look forward to providing a more comprehensive value proposition to our customers."
The roughly 80,000 sq. ft. facility operates around the clock, 6 days a week. A new feature that will enhance the safety and performance of their growing fleet is a 5 bay service bay for tractor, trailer and chassis service. Sister company, CDI is sharing the facility and operates over 20 power units and a versatile chassis fleet for the transport of sea and intermodal containers, of all lengths. The new CDI operation for Edmonton is headed up by David Hogan.
Fastfrate Edmonton acts primarily as an inbound terminal for intermodal and highway activity from Ontario and Quebec. Their Intrawest service continues to grow and with the proper cross dock and secure warehousing features now available, advances in transload and distribution services are expected.
"Consolidated Fastfrate has a 51-year history as a strategic partner to CP," says Jonathan Wahba, CP's Vice President Sales and Marketing, Intermodal and Grain. "They are the largest repositioner of marine containers in Canada, and we are really pleased that this new Edmonton facility will increase capacity to the northern Alberta marketplace."
Once the Edmonton team has everything ship shape, a function will be held to show customers the improved operations at the new facility. New signage will be installed shortly and future plans include the transition to LED lighting as an energy saving measure.
Back to News